What budget should you allow for team building?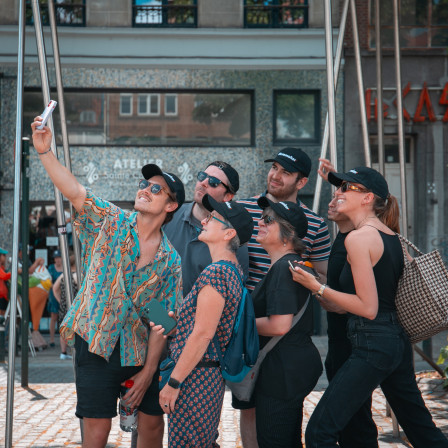 How much does a team building cost?
Ah, the team building budget, one of those questions where you're juggling between the desire to splash out on unforgettable experiences and the need to keep an eye on the bottom line. So, how much will you have to pull out of the box to strengthen that team bond? Well, that depends on a number of factors. 👇
Factors that affect the team building budget 💰
1. Size of the team 👥
Of course, organising a pizza party for a small team of 10 people won't cost as much as a team adventure for a group of 100. The larger the number of participants, the bigger the budget needed.
2. Type of activity ⛷
Do you want to go extreme caving, or do you prefer a peaceful "board games" afternoon at the office? Activities vary enormously in terms of cost. Activities that require special equipment, professional guides or travel will generally have a higher cost.
3. Location 📍
Will your team building take place in the office conference room or in Dubai? The choice of venue plays a major role in calculating the budget. Hire, accommodation, catering and transport costs vary depending on the venue chosen.
4. Duration of the event 🕦
A workshop lasting a few hours will obviously cost less than a whole weekend of activities. Time spent plays a part in the costs associated with venue hire, meals and other services.
5. Activities and entertainment 🎭
If you're planning special activities, guest speakers, themed entertainment or shows, this can also add extra costs.
6. Catering 👩🏻‍🍳
Don't forget your colleagues' hungry stomachs. Food and drink are essential elements of any successful event. Meals can be a significant part of the budget, especially if you opt for top-of-the-range catering options.
7. Equipment and logistics 🧳
If your event requires special equipment, supplies, decorations or even transport, don't forget to include these costs in your budget.
Coddy, the must-do team building activity 🧩
Why is Coddy the best activity for your team building and, above all, your wallet?
Coddy is suitable for both small and large groups (from 30 to 400 people)!
And the price is still very affordable! From €15 per person excluding VAT.
An activity accessible to all
It's an activity that's accessible to everyone: Martine from accounts, Paul from HR, Brigitte from marketing. Whatever your age, skills and, above all, affinity with digital technology, everyone can play Coddy's exploration games.
Coddy is close to home!
The adventures take place in major cities, and the catalogue offers the possibility of playing these games in over 70 towns! There's bound to be one near you, near your work! So it's easy to get there, no need to hire a coach, a bus, drivers, or take the train. Logically, the metro/tram is all you need :)
1h30 to 2h of fun!
It's a fairly fast activity, but not too fast either 😉 It also depends on how much time your team takes to do the puzzles, discover the city, read the anecdotes, complete the challenges and so on.
No extra equipment!
No extra equipment, no extra costs! It's played independently, when your team is available!
What budget should you allow for team building?💰
Ultimately, the team building budget can vary considerably depending on your choices. For a small activity in or near your office, you could spend a few hundred euros. On the other hand, for a more elaborate event in an exotic location with exciting activities, the budget could reach several thousand euros.
Team building for less than €50 per person?
Is the budget tight enough for your company? Think Coddy: riddles in the city, various challenges, fun information and anecdotes about the places, buildings and monuments encountered: your adventure will be as much fun and touristy as it will be competitive! With Coddy, the price is €15 per person (excluding VAT)!
*Please note that you'll need to set aside an extra food and drink budget for your hungry colleagues at the end of their adventure.
Team building between €50 and €100 per person
Does your company have a bigger budget? Then think about a dance or music class, a culinary team building event (wine tasting, cooking workshop with a chef), or a show or cultural event such as a play.
Team building between 100 and 200 euros per person
Has your company got too much money for your next team building event? Perfect, then organise an outdoor getaway with an overnight stay: tree house, rustic inn or glamping! Or destress your staff with a spa, wellness and relaxation day :)